WHAT'S INCLUDED In A DofE Programme
DofE for schools  
Below is a list of what you can expect from Learn Outdoors in your DofE programme. 
Bespoke DofE programme – which may include a comprehensive package of training, practice and qualifying expeditions. Or elements of the above to suit your needs.
Expert supervision – all our instructors are very experienced and hold the Mountain Leaders Award as a minimum qualification. 
Accredited Assessors – Gold standard assessors are available for all our Qualifying expeditions. 
Medical Advisor – we retain the services of a qualified doctor to advise on specific medical matters associated with expeditions. 
'Risk Assessments, Operating Procedures and Policies' – these are regularly reviewed and you'll receive them
in a single, comprehensive document. 
'Our Tips for Success' training booklet – our own publication designed to increase the effectiveness of expedition training. 
Assistance with expedition paperwork – we'll help take the burden of expedition preparation by completing Green Forms and other paperwork. 
Medical and Consent Forms and Equipment Lists – we'll guide you through kit needs and ensure all appropriate medical information is acquired. 
Tents and stoves – we can supply high quality trekking tents and gas Trangia stoves if required (there is an additional modest cost for the loan of this equipment). 
Emergency spare equipment – appropriate back-up kit such as fleeces, waterproofs, sleeping bags, rucksacks etc will be provided on an expedition. 
Emergency Procedure Cards and Hi-vis vests – safety equipment will be distributed at the start of each expedition. 
Quality training and route planning days – we can help with all the pre-expedition preparation at a venue convenient to you. 
The opportunity for school staff new to DofE to gain experience – we can provide shadowing opportunities with other clients for your staff to see how our expeditions are run and understand what the expedition process is like. 
Camp fees and DofE fees paid by Learn Outdoors – these will be accounted for in your price. 
Insurance – our activities are appropriately insured through 'Activities Industry Mutual' who are specialists in the outdoor sector.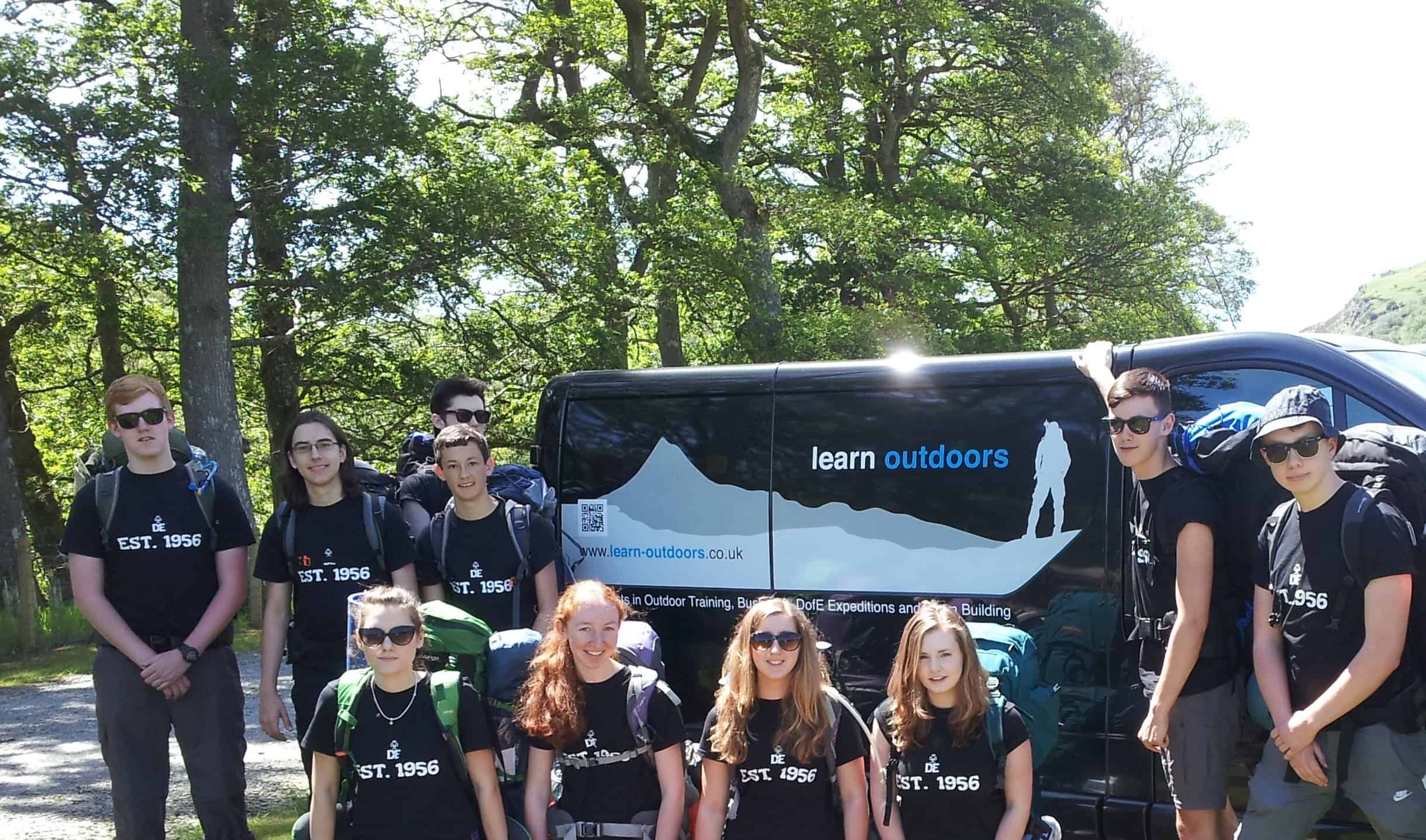 TESTIMONIALS
"All the instructors were excellent – the students were motivated by their teaching and they gave the students a wealth of skills which will enable them to succeed in their assessed expedition. The whole trip has been organised very well and has run very smoothly. Thank you very much!"
TESTIMONIALS
"Excellent instructors – we would like to work with them all again."
TESTIMONIALS
"Learn Outdoors has excellent instructors, health and safety, flexibility, programme design and client management.  I would happily recommend them."
TESTIMONIALS
"All safety measures in place. Excellent tutors and Course Director. Venue excellent and pupils taken through all safety procedures with walking activities to cooking." 
TESTIMONIALS
"The instructors were excellent. They operated professionally and exhibited confidence, knowledge and approachability throughout."
TESTIMONIALS
"Staff and pupils all commented on the positive and productive atmosphere over the weekend."
TESTIMONIALS
"All crew were lovely and really helpful."
TESTIMONIALS
"We felt that a lot of time and effort had gone into organising it and we really enjoyed it."