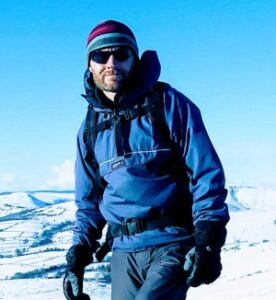 Philip Clegg, Managing Director
Philip has backgrounds in environmental management, sustainable development and outdoor training and has held roles including a charity chairman, a national advisor on running outdoor programmes and in consultancy. He has been involved with DofE, in a voluntary and professional capacity, for over 20 years. He has a passion for teaching navigation in the hills and just about manages to juggle the competing demands of heading up a successful company and spending enough time in the outdoors!
Philip enjoys hill and mountain walking, canoeing and riding his cyclo-cross bike.  He is also a reluctant runner, mediocre guitar player and prefers books to computers.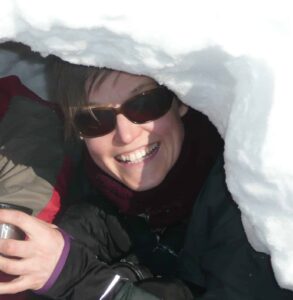 Sarah Davis, Planning and Accounts Manager
Sarah takes a keen interest in the outdoors and enjoys exploring the countryside by foot, bike or canoe; she has a love of plants and foraging and encourages others to value their local environment. She has backgrounds in outdoor education and conservation, environmental health and DofE, as well as also being a qualified Life Coach.  In addition to her office-based roles you may come across Sarah on some of our bushcraft courses and taking a lead in our Green Prescriptions/eco-therapy work.
Sarah masquerades as an artist, is a frustrated pianist but makes rather good Welsh cakes.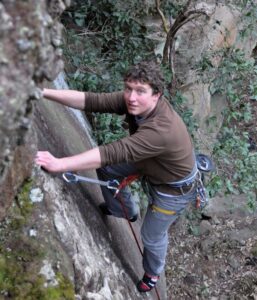 Sam Hayward, Outdoor Practitioner
Sam's background is in outdoor education and adventurous activities; however he has also been employed in residential care with young people with challenging behaviours. Sam has worked and trained across England, Scotland and Wales including an extended period in the Lake District and leading journey based expeditions in Australia. He holds many outdoor qualifications, including the IOL Bushcraft Competency Certificate and enjoys a diverse range of activities such as canoeing, climbing, caving, mountain biking and hiking.
You'll likely meet Sam on most of our bushcraft courses but when things become overwhelming he'll retreat to his Xbox!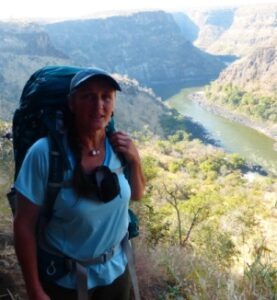 Nicky Hedgecock, Outdoor Practitioner
Nicky loves being outdoors, whether it be hiking, practising bushcraft, paddling or just gardening. For the last 14 years she has been busy running DofE expeditions, leading overseas trips on 5 continents around the world and running bushcraft and forest school groups. Her career has given her the opportunity to work with a wide variety of clients ranging from adults with learning difficulties to primary school special needs groups, as well as mainstream and PRU units. She has found running a youth group for the last 20 years very rewarding.
For relaxation she loves to whittle, crochet and run (jog!).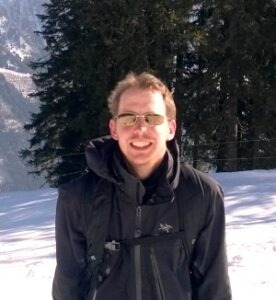 Michael Field, School Relationship Manager (south east)
Michael has built a career in account management and business development, but his passion lies in the outdoors and he enjoys most things that involve fresh air. Michael has been involved in the delivery of DofE for over 15 years and through that time has developed an unhealthy obsession with kit!
Michael spends a bit too much time in front of a computer, mostly counting down to his next hike, bike or outdoor adventure.
TESTIMONIALS
"All the instructors were excellent – the students were motivated by their teaching and they gave the students a wealth of skills which will enable them to succeed in their assessed expedition. The whole trip has been organised very well and has run very smoothly. Thank you very much!"
TESTIMONIALS
"Excellent instructors – we would like to work with them all again."
TESTIMONIALS
"Learn Outdoors has excellent instructors, health and safety, flexibility, programme design and client management.  I would happily recommend them."
TESTIMONIALS
"All safety measures in place. Excellent tutors and Course Director. Venue excellent and pupils taken through all safety procedures with walking activities to cooking." 
TESTIMONIALS
"The instructors were excellent. They operated professionally and exhibited confidence, knowledge and approachability throughout."
TESTIMONIALS
"Staff and pupils all commented on the positive and productive atmosphere over the weekend."
TESTIMONIALS
"All crew were lovely and really helpful."
TESTIMONIALS
"We felt that a lot of time and effort had gone into organising it and we really enjoyed it."